My birthday fall on 16th of March... That was like weeks ago?
A week before that, I tried not to remind myself too much of my birthday.
I dont want to get too excited :)
I did wonder sometimes what type of presents would I receive this year.
Then I thought of Him.
Would he give me something for my birthday?
Then my mind started to wander a bit too far.
A few moments later I realized I should stop this nonsense because it is highly impossible that he would buy me anything.
But I just couldn't stop. Just daydreaming of him wishing me happy birthday through text message already made me excited.
I was so enthusiastic.
but again, i tried to not think to much about this.
And later... that day came.
I was showered with birthday wished through Facebook and text messages :)
Mama and Abah gave me hugs, wishes and of course presents!
But I was waiting since 12.00 am and I have not receive any birthday wish from Him. I was frustrated. I wasn't enjoying myself on my birthday.
I felt like saying to Mama, "Ma, i dont feel like celebrating my birthday. Can we like postpone it or something?".
=_=
You can say it was the worst birthday ever :/
I was thinking the whole day (birthday) about what I wanted from Him for my birthday and I realized what I want wasn't a birthday present but a simple birthday wish from him...and maybe some "passionate" flying kisses. hehe >w<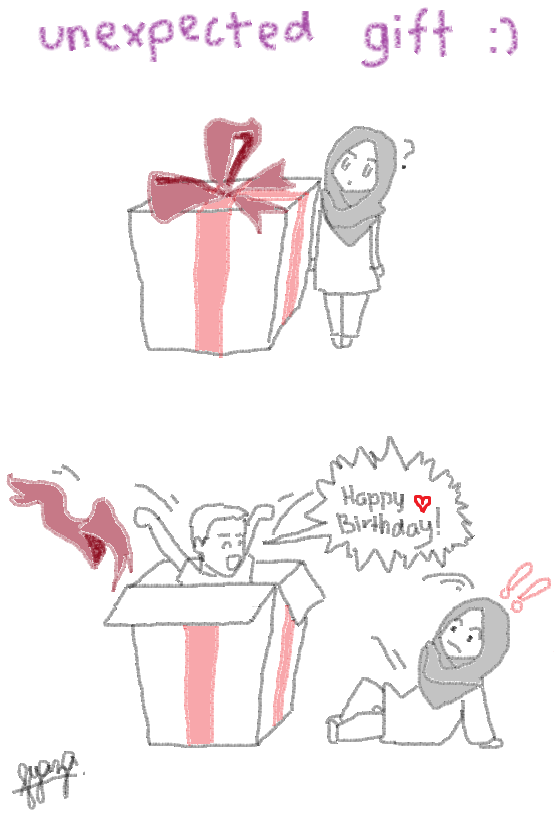 Oh well... Its almost April... Its already too late if he wants to give the birthday present I've wanted from Him :/
Lalala... Dooodollsssssss... Burrrr~~ *random words